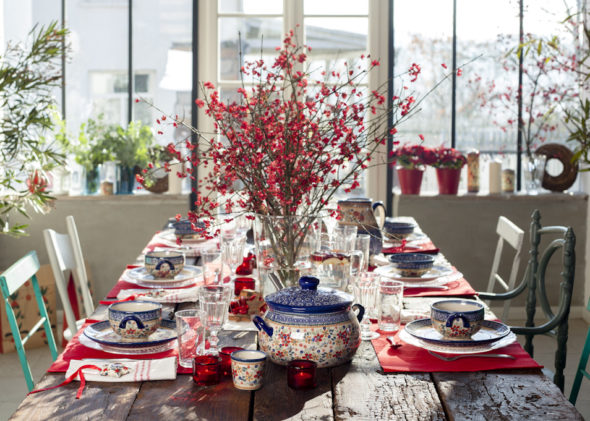 The Manufaktura Stone Pottery Factory in Bolesławiec has hit the bull's eye with South Korea. The company has grown at lightning speed, and is investing and hiring new employees. Manufaktura produces pottery that enjoys worldwide renown. Its wares have won the hearts of the South Koreans, North Americans and Japanese, and customers in New Zealand and Germany are now taking a shine to them. Thanks to the factories in and around the town, Bolesławiec has become a European centre of pottery. The last few years have been highly prosperous for the town.
Contracts with South Korea have been a godsend for Manufaktura. Paweł Zwierz, the co-owner of Manufaktura's, recognises that the company would not be able to grow so fast if it were not for the trade agreement that has been in effect between the European Union and South Korea since July 2011. Manufaktura's products have been available in South Korea for five years now, but sales volumes were low at first. The South Koreans used to buy sets, plates and pitchers in Bolesławiec and sell them in their retail outlets. "The boom came when the trade agreement was made with South Korea, and orders sky-rocketed," says Paweł Zwierz. When the agreement came into force, duties were lifted, trade was facilitated, and Manufaktura's products proved competitive against the widely available and popular UK products in Asia.
Pottery from Bolesławiec seems to be the perfect match for the tastes of South Koreans, who have a penchant for handicrafts, cooking and meticulously designed wares. They like the fact that no chemicals are used in production and the pottery is not decorated using environmentally unsafe paints. They love detail and delight in the plant motifs that have been honed to perfection by the dedicated team of designers at Manufaktura for products destined for South Korea. The company collaborates with such master designers as Dorota Koziara and Oskar Zięta. Magdalena Gazur, Manufaktura's chief designer, is in charge of those product lines. The designers form a European elite and their works are exhibited in leading galleries, from Milan to Zurich.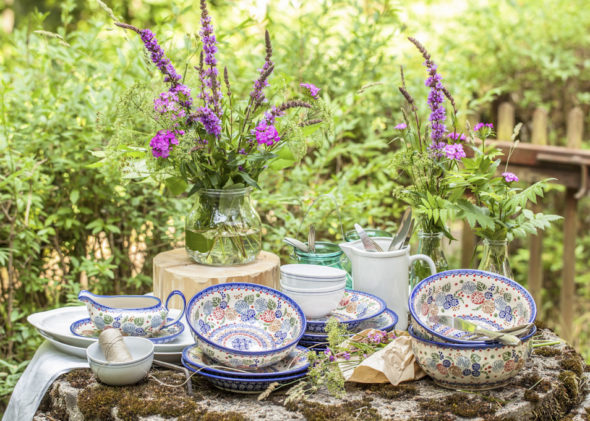 Paweł Zwierz acknowledges that Manufaktura's products have conquered a number of markets worldwide, but says it is South Korea where it really feels like a fish in water. Thirty percent of Manufaktura's products are exported to South Korea, he says. The company has developed a special style for South Korea, introduced brighter colours (the Koreans perceive colours differently from the Europeans) and has gone in for the floral compositions that the Koreans love. Manufaktura has created proprietary designs solely for South Korea. Its pottery is sold not only in retail stores, but also in the huge retail networks Kia and Hyundai.
Just a few years ago, Manufaktura had as few as 10 people on its payroll. Now its staff has expanded to 213 employees. "We've taken on more staff thanks to trade with South Korea. More than 20 percent of Manufaktura's employees work solely on pottery destined for South Korea," says Paweł Zwierz. They work with great intensity. Paweł Zwierz notes that he has to bring in workers from Ukraine to meet all orders. The company moved to premises with a size of 350 square metres late last year and is now setting up an advanced kiln, after using the previous one for ten years, which is a long time in this industry. The new kiln will result in an improvement in quality, which is extremely important to the South Koreans. "Only top-quality products can be sold successfully in South Korea," notes Paweł Zwierz.
He believes South Korea has been Bolesławiec's salvation. "The pottery industry has grown in the town and its surroundings thanks to South Korean customers. Pottery is the most distinctive product from Bolesławiec," he says. He shows us the visitor figures from the Living Pottery Museum, which was established at the factory ten years ago. The museum not only showcases manufacturing technology, but allows visitors to create their own ceramic masterpiece. It attracted some 10,000 visitors in 2015, 90 percent of whom were foreigners, with Germans accounting for 50 percent and South Koreans for 20 percent of the foreign visitors.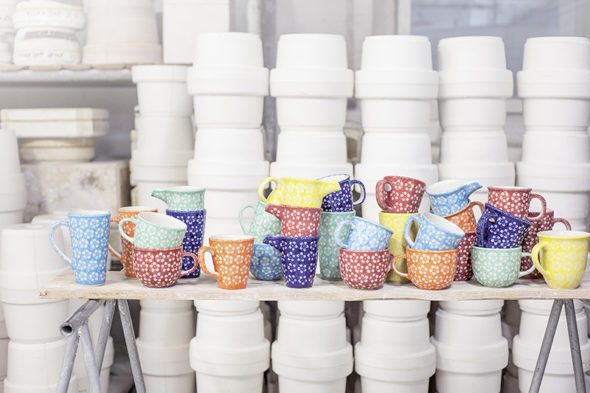 Town council spokeswoman Agnieszka Gergont says that not only Manufaktura, but also a number of other pottery factories from Bolesławiec benefit from doing business with South Korea. The town is a ceramic goldmine, and is famous for deposits of white-burning clays that are not found anywhere else in the world. The clays contribute to unique products, which have a refined texture and are of very high quality. The pottery is dishwasher and microwave safe. Agnieszka Gergont explains that the trade agreement between the European Union and South Korea has played an important role in the development of Bolesławiec. "Such agreements are beneficial for companies, the local community and the town. The better the agreements, the more prosperous life is and the higher the earnings, so people don't seek to leave the town," she says. Thanks to the economic boom, Bolesławiec boasts a record low unemployment rate – it has fallen from 27 percent ten years ago to 4.8 percent today. "Pottery has played a major role in that massive decrease in unemployment," she adds. Pottery is what draws tourists. Bolesławiec Pottery Days, a flagship event that is held in the year every year on the penultimate weekend in August, attracted some 100,000 visitors in 2014 and as many as 200,000 in 2015. The number of tourists from Asia has been on the increase for several years now. Pottery from Bolesławiec appeals to people from the Asian culture, says Agnieszka Gergont. New hotels, restaurants and shops are springing up in Bolesławiec. The town's financial standing is so good that residents have been exempted from paying property tax on residential buildings.
Bolesławiec has a growing appetite for trade with Asia. "We're awaiting the trade agreement with Japan," says Paweł Zwierz. Manufaktura is already present in Japan, but the market is difficult, since duties are high and many tests have to be completed, with even combinations of colours needing to be certified in Japan "The Japanese are eager to buy Manufaktura's products, and I'm sure that an agreement between the EU and Japan will increase our sales, since that was the case with South Korea," he says.