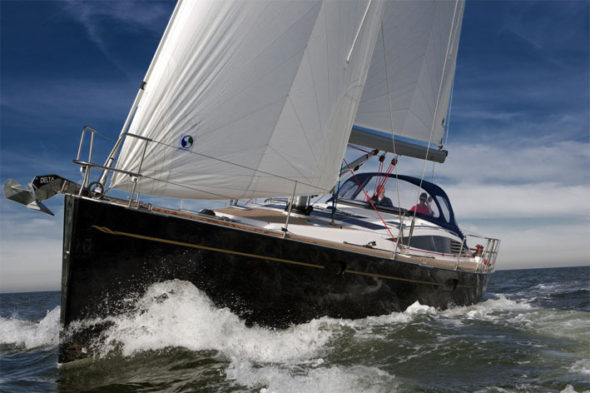 It all started a quarter of a century ago, on a canoeing trip. While admiring the beautifully made foreign canoes, two brothers, Piotr and Wojciech Kot, came to the conclusion that they too could make canoes like that.
Tough beginnings
"At the beginning of the 1990s it was easy to set up a business", Wojciech Kot remembers "but it was not as easy as far as materials and manufacturing equipment were concerned." However, mats, resins, and gel-coats began to appear at wholesalers… They got to know someone from the Netherlands at the Poznan trade fair, who liked the first boats they produced, and placed an order for 24 of them. After that another order was placed and within the first year they were already overwhelmed with work.
And quite literally too, because although they had around a dozen employees, they themselves took care of supplying materials, storage, and driving.
Poland's accession to the EU helped with the expansion of the firm, which had been export-oriented from the beginning. Delphia made use of the STRUDER programme, and, thanks to EU funds, purchased a machining centre among other things.
Delphia Yachts is currently the largest producer of sailing yachts in Poland.
It produces various versions of the Delphia and Phila models, and the Nautika and Nano motor yachts, of a length between 7 and 15 metres. To date the Olecko-based company has produced more than 20,000 yachts for ocean, sea, and inland sailing.
Quest to take over the world 
Approximately 95% of products are sent to 40 countries. Beyond Europe, they are sent for instance to China, Australia, Japan, and New Zealand. The Escape 1100 Soley motor yacht, which won the title Boat of the Year in Japan in 2015, has been a hit in Japan in recent years. The Olecko-based firm has been present in Canada for ten years.
"It is a large market, where there is interest in the largest and most exclusive products, such as our Delphia 40.3", Wojciech Kot says. "Even though this market, like the USA, is dominated by motor yachts. Up to 10% of the market remains for sailing yachts, but this is worth competing for. Today, on both sides of the Great Lakes, we sell yachts for several million dollars."
Delphia Yachts' highest cost is transportation, which is tens of thousands of dollars, and for this reason any means of reducing costs are important, for example, waiving customs duties once the trade agreement between the EU and Canada comes into force. The customs duty on yachts of this size is currently 9.5%. The new trade agreement will waive customs duty completely.
"At the moment, Canada's internal regulations are also trade barriers for us", Wojciech Kot says. "We have to account for example for the type of electricity used on yachts, and safety systems. It is possible that the Canadian regulations on these issues will be harmonised with the Polish regulations."
The trade agreement between the EU and Canada envisages closer cooperation with regard to regulations. Both parties have agreed on the reciprocal acceptance of certificates of conformity issued by their respective regulatory authorities in a number of sectors. This makes it possible to avoid duplication of tests and will significantly reduce costs for businesses.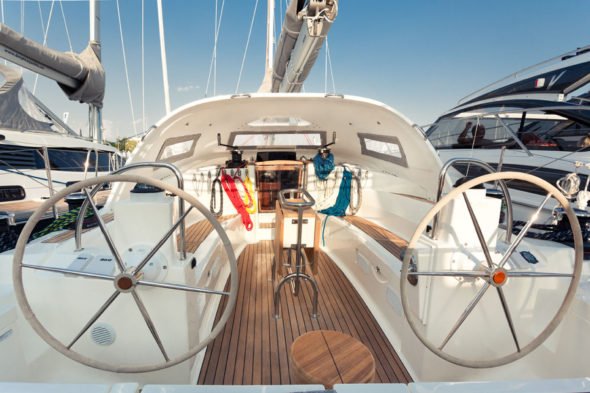 The company stimulates development in the region
Every success of the Olecko-based company is good news for around a dozen local firms: forwarders and manufacturers of acid-resistant steel products and upholstery.
Bogdan Skórkiewicz, co-owner of the firm BWP-Skórkiewicz, which produces acid-resistant steel products such as railings, stands, and hinges, says that Delphia purchases one third of is products, and the company's turnover goes up by 30% each year. BWP employs more than 70 people, buys equipment, and introduces new technologies, also by using EU funds, with which it has been able to obtain PLN 2 million to purchase a laser for example.
A local producer of upholstery for yachts, Adriatica, and forwarding companies, benefit in similar ways from the co-operation with Delphia. Wojciech Kot says that it is a rule of Delphia's to get its supplies from Olecko-based wholesalers. Even if the goods are slightly more expensive, he buys from local businesses.
Wacław Olszewski, the mayor of Olecko, says that Delphia Yachts is the largest investor in the Olecko Economic Activity Areas, and one of the biggest payers of the real estate tax. It employs almost 700 people, which, in a district in which the unemployment rate is at 17.8%, is very important. The mayor says that Delphia Yachts is an excellent promotion for the town and the region around the world. It takes part in trade fairs and its boats and yachts win prestigious awards.
At the turn of 2011 and 2012, the sailor Tomasz Cichocki sailed single-handedly around the world on a Delphia 40.3. yacht. When he ended his voyage in Brest on 7 May 2012 he said: "It's a beautiful yacht, it's unstoppable."
New challenges
In cooperation with institutions of higher education the Kot brothers are building their own research facility. "We have an idea for an innovative yacht construction technology, using nanomaterials", says Wojciech Kot. "We think this will be a milestone in the firm's development."
Delphia is also planning to sell yacht designs and moulds to other boat building companies. "To a large extent this will be our future", Wojciech Kot says.