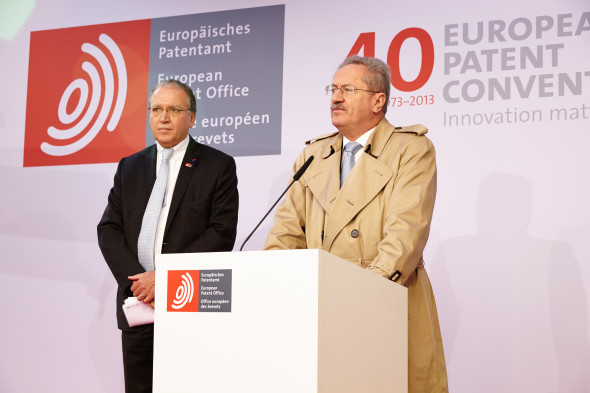 At a celebration attended by Herman Van Rompuy, President of the European Council, the European Patent Office today marked the 40th anniversary of the European Patent Convention (EPC). On 5 October 1973, the EPC was signed in Munich, establishing a legal framework for the transnational grant of patents in Europe.
The Convention was inspired by the vision of a group of convinced Europeans, who had personally suffered from the war and thought, like the founding fathers of the European Economic Community, that the establishment of a supranational patent system would significantly strengthen the European economy, forge closer bonds between Europeans and help to shape a peaceful and prosperous Europe.
"After forty years, we can say that the EPC, which created the European Patent Office, has provided the ground for building a real success, not only from a technical point of view but also in its European and political dimension," declared EPO President Benoît Battistelli. "The high quality of products and services delivered by the EPO is acknowledged across the globe. Ever since it was set up, the EPO has played an active role in fostering innovation and has given Europe a strong voice in its ongoing dialogue with the other world leaders in technology," he added.
The European patent system will be further improved by two major projects recently adopted by the EU institutions: the unitary patent and the Unified Patent Court. "The unitary patent marks the end of a forty-year odyssey and opens new horizons for European entrepreneurs,"said Herman Van Rompuy, President of the European Council.
The European Patent Organisation, starting with seven member states, now comprises 38 countries, including all the 28 EU members. It represents a single entry point to a market of 600 million inhabitants. This framework has proved capable of integrating countries which differ widely in terms of size, economic significance and industrial development.
The growth in the number of patent applications filed has been dramatic, from 4 000 in 1978 to some 260 000 in 2012. Moreover, most of the electronic tools and services developed by the European Patent Office to conduct patent activities – such as prior art search engines, machine translation facilities and classification for technical documents – have become world standards and are used by dozens of patent offices around the world. The international reputation of the EPC system, based on the unique expertise of the EPO, significantly strengthens Europe's position in co‑operation with other major regions, such as the US and Asia.
More information: www.epo.org