Saxo Bank has today released its 10 Outrageous Predictions for 2022. The predictions focus on a series of unlikely but underappreciated events which, if they were to occur, could send shockwaves across financial markets:
The plan to end fossil fuels gets a rain check
Facebook faceplants on youth exodus
The US mid-term election brings constitutional crisis
US inflation reaches above 15% on wage-price spiral
EU Superfund for climate, energy and defence announced, to be funded by private pensions
Women's Reddit Army takes on the corporate patriarchy
India joins the Gulf Cooperation Council as a non-voting member
Spotify disrupted due to NFT-based digital rights platform
New hypersonic tech drives space race and new cold war
Medical breakthrough extends average life expectancy 25 years
While these predictions do not constitute Saxo's official market forecasts for 2022, they represent a warning against the potential misallocation of risk among investors who might typically assign just a one percent chance of these events materialising. It's an exercise in considering the full extent of what is possible, even if not necessarily probable, and particularly relevant in the context of this year's unexpected Covid-19 crisis. Inevitably the outcomes that prove the most disruptive (and therefore outrageous) are those that are a surprise to consensus.
Commenting on this year's Outrageous Predictions, Chief Investment Officer at Saxo Bank, Steen Jakobsen said:
"The theme for 2022 Outrageous Predictions is Revolution. There is so much energy building up in our inequality-plagued society and economy. Add to that the inability of the current system to address the issue and we need to look into the future with a fundamental view that it's not a question of whether we get a revolution but a more a question of when and how. With every revolution, some win and some lose, but that's not the point—if the current system can't change but must, a revolution is the only path forward.
A culture war is raging across the globe and the divide is no longer simply between the rich and the poor. It's also the young versus the old, the educated class versus the less educated working class, real markets with price discovery versus government intervention, stock market buy-backs versus R&D spending, inflation versus deflation, women versus men, the progressive left versus the centrist left, virtual signalling on social media versus real changes to society, the rentier class versus labour, fossil fuels versus green energy, ESG initiatives versus the need to supply the world with reliable energy—the list go on.
We collaborated globally on Covid vaccines in 2020 and 2021. Now we need a new Manhattan Project–-type endeavour to set the marginal cost of energy, adjusted for productivity, on the path to much lower levels while eliminating the impact of our energy generation on the environment. Such a move would unleash the most significant productivity cycle in history: we could desalinate water, make vertical farms feasible almost anywhere, increase computer powers to quantum states, and continue to explore new boundaries in biology and physics."
Remember that the world is forever evolving if at varying speeds, while business and political cycles are always finite."
The Outrageous Predictions 2022 publication is available here with headline summaries below:
1. The plan to end fossil fuels gets a rain check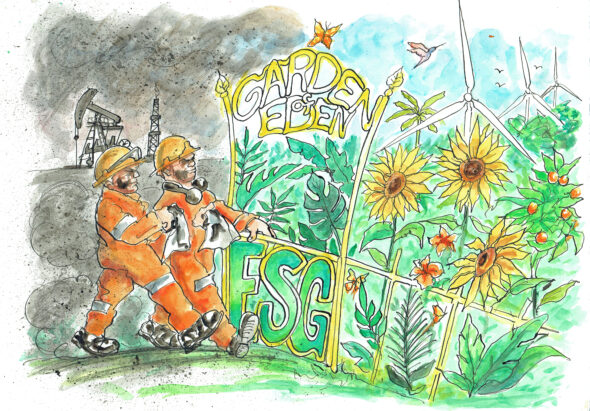 Summary: Policymakers kick climate targets down the road and support fossil fuel investment to fight inflation and the risk of social unrest while rethinking the path to a low-carbon future.
Realising the inflationary threat from surging commodities prices and the risk of an economic train wreck due to the unrealistic timeline for the green energy transition, policymakers kick climate targets down the road. They relax investment red tape for five years for oil production and ten years for natural gas production, to encourage producers to ensure adequate and reasonably priced supplies that bridge the gap from the energy present to the low-carbon energy future.
This development has already jacked up prices and price volatility, not only for energy, but also for industrial metals, most of which are needed in greater quantities for the green transformation push. On top of this, surging energy prices have spiked prices for diesel and especially fertiliser, important farming costs that raise concerns about the production of key food crops.
Market impact: The iShares Stoxx EU 600 Oil & Gas ETF (Ticker: EXH1:xetr) surges 50 percent as the whole energy sector gets a new lease on life
2. Facebook faceplants on youth exodus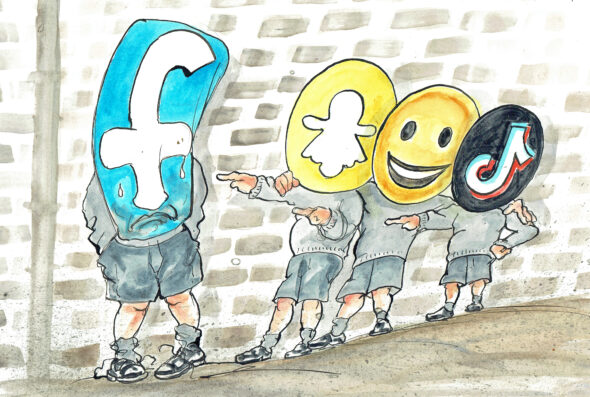 Summary: The young abandon Facebook's platforms in protest at the mining of personal information for profit; the attempt by Facebook parent Meta to reel them back in with the Metaverse stumbles.
Facebook has gone from being a vibrant hub of young people, to a platform for older "boomers" as young people would say. Young people are increasingly turned off by Facebook's algorithms turning their social media experiences into that of homogenous feedback loops of identical content, or even worse, hateful and disinforming content. Facebook's own research suggests that teens spend 2 to 3 times longer on TikTok than on Instagram (which is Facebook's youngest social media asset), and that Snapchat is the preferred way to communicate with friends.
A new company name (Facebook is now called Meta) and brand identity to separate and shield Instagram (its most valuable current asset), together with creating a new product tailored towards young people, is the exact same playbook tobacco companies have used for years. But in 2022, investors will realise that Meta is rapidly losing the young generation and thus the future potential and profitability of the company. In a desperate move, Meta tries to acquire Snapchat or TikTok while throwing billions of dollars into building the creepy Metaverse, which is aimed at surveilling users more directly than ever before and getting young people back into Meta's universe of social media platforms, in the perceived wisdom that being a first mover is always best in technology. The plan struggles to take off as the young generation fails to sign up.
Market impact: Facebook parent company Meta struggles, down 30 percent versus the broader market and is urged to spin off its components as separate entities, shattering Zuckerberg's monopolistic dreams.
3. The US mid-term election brings constitutional crisis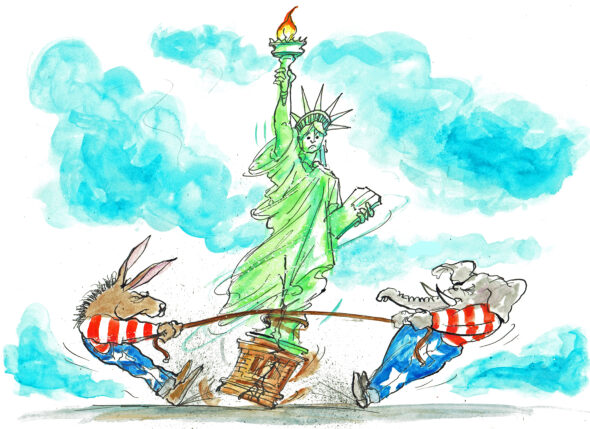 Summary: The US mid-term election sees a stand-off over the certification of close Senate and/or House election results, leading to a scenario where the 118th Congress is unable to sit on schedule in early 2023.
The chaotic 2020 US Presidential Election was a scary moment for many US institutions. The sitting president Donald J. Trump initially refused to conceded defeat in the election and complained that the election was stolen, a claim that was never seriously challenged in a court of law but one which had widespread sympathy among the Trump base. A crowd of hard-core believers in the stolen election conspiracy was encouraged by the President's rhetoric to a sufficient degree to storm Capitol Hill and "stop the steal", i.e., to prevent the election result from being made official on January 6, 2021, in a scene unprecedented in US history.
Prior to this, and then again later in the hotly contested Senate run-off elections in Georgia, dedicated election officials—many of them Republican—were doing their duty to tally the real results while risking their life amidst threats—even death threats—from extremists. In 2022, the Republicans ensure that no such traditional duty-bound officials are in the "wrong" place, with all election-related positions filled by toe-the-line partisans ready to do anything to tilt the results to suppressing voter turnout.
In the wake of the 2022 election, a handful of key Senate and House races come down to the wire and one or both sides move against certifying the vote, making it impossible for the new Congress to form and sit on its scheduled first day of January 3, 2023. Joe Biden rules by decree and US democracy is suspended as even Democrats also dig in against the Supreme Court that was tilted heavily by Trump. A full-blown constitutional crisis stretches over the horizon over the stand-off as 2023 gets under way.
Market impact: extreme volatility in US assets, as US treasury yields rise and the USD drops on hedging against the existential crisis in the world's largest economy and issuer of the world's reserve currency of choice.
4. US inflation reaches above 15% on wage-price spiral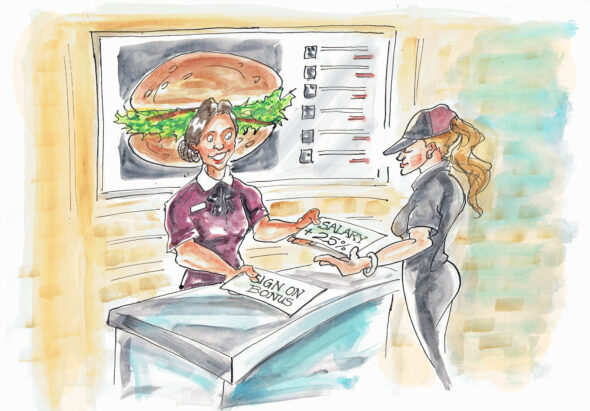 Summary: By the fourth quarter of 2022, the wages for the lower half of US incomes are rising at an annualised 15% clip as companies scramble to find willing and qualified workers who are increasingly selective due to a rising sense of entitlement as jobs are plentiful relative to the meagre availability of workers at all skill levels.
The official US CPI reached a peak at 11.8% in February 1975. It wasn't until the recession of 1980-82 and brutal policy rate increases to levels as high as 20% that inflation was finally killed.
In 2022, the Federal Reserve and Fed chair Jerome Powell repeats the same mistake all over again as the post-Covid outbreak economy and especially the labour market are severely supply constrained, making a mockery of the Fed's traditional models. Powell believes millions of Americans will return to work and fill some of the 10.4 million open job positions as Covid-19 fades. But this is plain wrong. Some have retired early due to the crisis and thus have permanently left the US workforce.
The big difference between today and yesterday is that the pandemic has fuelled a great awakening of workers. Across sectors and income classes they realise they are now more empowered than ever. They demand a better experience: better job conditions, higher wages, more flexibility and a sense of purpose from work. Coupled with persistent inflationary pressures coming from the production side, the energy crisis and labour shortage, this results in unprecedented broad-based double-digit annualised wage increases by Q4.
As a consequence, US inflation reaches an annualised pace above 15% before the start of 2023, for the first time since WWII. This prompts the Federal Reserve into a too-little, too-late move to tighten monetary policy faster in a desperate effort to tame inflation. But the central bank has lost credibility; it will take time to regain it.
Market impact: extreme volatility in US equity and credit markets. The JNK high-yield ETF falls as much as 20% and the VIXM mid-curve volatility ETF soars as much as 70%.
5. EU Superfund for climate, energy and defence announced, to be funded by private pensions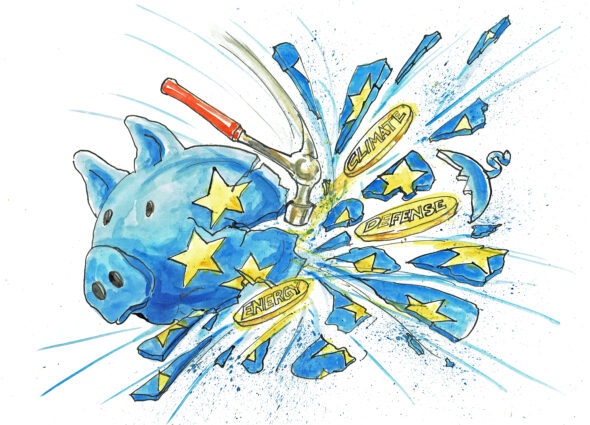 Summary: To defend against the rise of populism, deepen the commitment to slowing climate change, and defend its borders as the US security umbrella recedes, the EU launches a bold $3 trillion Superfund to be funded by pension allocations rather than new taxes.
The security umbrella provided by the US during the Cold War and afterwards over much of Eastern Europe is rapidly fading and threatens to fail entirely in the years ahead as the US looks east at far more serious economic and military rivals.
French President Macron, backed by a Draghi moving to stave off Italy's own rise of the populists, rolls out a vision for an "EU Superfund" that will address the three-fold priorities of defence, climate and the related clean energy transition.
Given the EU's aging population and heavy tax burdens, policymakers know that it will be impossible to finance the Superfund with higher taxes on incomes or other traditional tax revenues. Instead, France has a light-bulb moment as it seeks to overhaul its pension system and looks at Europe's enormous pensions. It decides that all pensions for all workers above the age of 40 must allocate a progressively larger portion of their pension assets into Superfund bonds as they age. This allows new levels of fiscal stimulus in the EU even with the sleight-of-hand trick of hiding the spending in inflation and negative real returns on low-yielding Superfund bonds that are actually EU bonds in disguise. At the same the younger generation enjoys a stronger job market and less unfair tax burdens as the system proves such a success that income taxes are lowered progressively.
Market impact: Bond yields harmonise across Europe, leading to German Bunds underperforming. EU defence, construction and new energy companies are some of the best performers.
6. Women's Reddit Army takes on the corporate patriarchy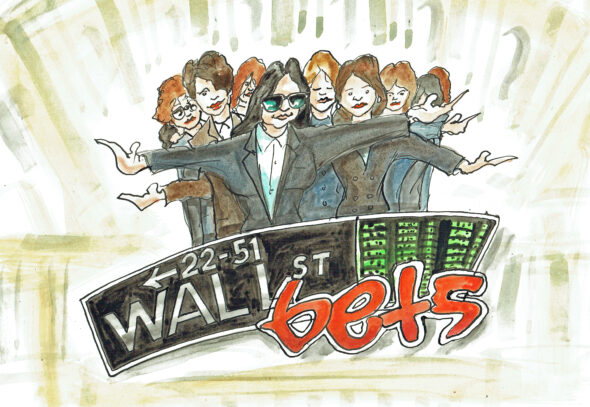 Summary: Mimicking the meme stock Reddit Army tactics of 2020-21, a group of women traders launch a coordinated assault on companies with weak records on gender equality, leading to huge swings in equity prices for targeted companies.
Women are not willing to wait any longer. Tired of the lack of progress, 2022 sees a massive grass-roots effort based on social media platforms to force companies that break civil rights laws to address unfair and sexist, racist, ageist and ableist practices. Although women have been struggling with lower salaries, they have higher saving rates than men. Those savings will now come in handy as they decide to take the situation into their own hands and throw their considerable influence around in a #metoo movement in financial markets.
In contrast to the often-nihilistic original Reddit Army, the Women's Reddit Army will be more sophisticated, with women traders coordinating a long squeeze by shorting stocks of selected patriarch companies. At the same time, they will direct funds to companies with the best metrics on female representation in middle management and among executives. Instead of condemning the development, politicians worldwide welcome and support their cause, putting even more pressure on companies with outdated patriarchal attitudes, poor gender equality in pay, and under-representation of women on boards and in management to address the errors of their ways.
Market impact: The movement gets real results as the broader market catches on to the theme and joins in, forcing targeted company prices sharply lower, which sees companies scrambling to change their ways. It marks the beginning of a gender parity renaissance in markets.
7. India joins the Gulf Cooperation Council as a non-voting member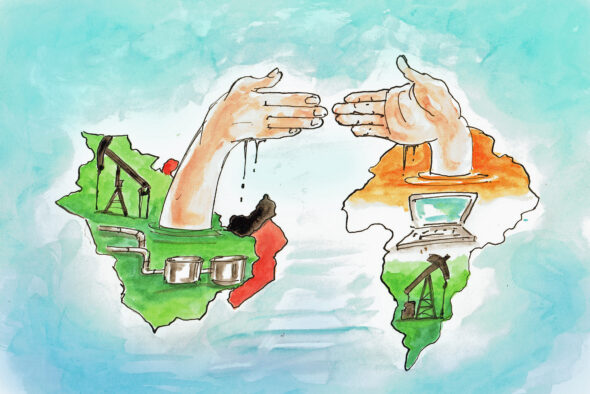 Summary: The world's geopolitical alliances will lurch into a phase of drastic realignment as we have an ugly cocktail of new deglobalising geopolitics and much higher energy prices.
Countries reliant on imports for the majority of their energy inputs in a rapidly deglobalising world will need to move fast to strategically reorientate strategic alliances and secure long-term energy supplies. One such alliance could involve India, with its mighty technology sector, joining the Gulf Cooperation Council (GCC) as non-voting member, or in some sort of free trade zone. This alliance would see a reduction in India's energy insecurity as it secures long-term import commitments.
Interregional trading zones will secure "closer to home" production and investment, combined with the security of reliable supplies from India's point of view, and a reliable destination market from the GCC's point of view. The alliance helps lay the groundwork for the GCC countries to plan for their future beyond oil and gas and for India to accelerate its development via huge new investments in infrastructure and improvements in agricultural productivity together with fossil fuel imports, bridging the way to a post-carbon longer-term future.
Market impact: The Indian rupee proves far more resilient than its EM peers in a volatile year for markets. The bubbly Indian stock market corrects with other equity markets in early 2022 but proves a strong relative performer from the intra-year lows.
8.      Spotify disrupted due to NFT-based digital rights platform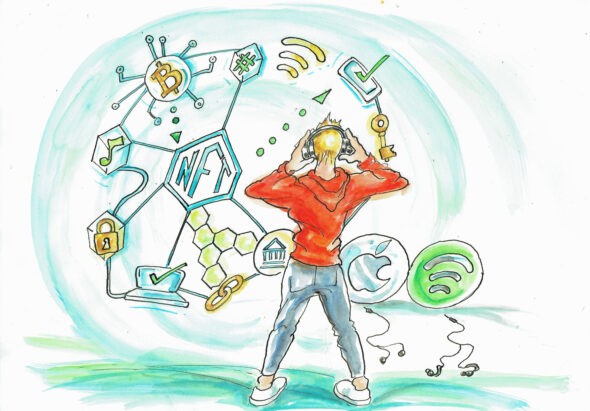 Summary: Musicians are ready for change as the current music streaming paradigm means that labels and streaming platforms capture 75-95 percent of revenue paid for listening to streamed music. In 2022, new blockchain-based technology will help them grab back their fair share of industry revenues.
While the early days of NFTs have looked chaotic and dangerous for asset buyers, the outlook is bright for NFT technology. Not only does an NFT-based platform offer a new way to verify the ownership of rights, but also a way to distribute rights without intermediaries, i.e., a completely decentralised system obviating the need for a centralised platform.
The use case for NFTs could prove particularly compelling in the next step for the technology for content generators in the music industry as musicians feel unfairly treated by the revenue sharing models of the current streaming platforms like Spotify and Apple Music. These models don't guide individual subscribers' fees to the actual music an individual subscriber listens to. Rather, all subscription fee revenues are aggregated and distributed based on every artist's share of total streams. In addition, the platforms take a substantial cut, which together with the cut paid to labels is some 75 percent or more of the total revenue.
In 2022, an NFT-based service takes hold and begins offering music from notable stars – perhaps the likes of Katy Perry, The Chainsmokers and Jason Derulo, all of whom have recently backed an effort to create a new blockchain-powered streaming platform. Other well-known artists begin pulling their music from the now "traditional" streaming platforms, which suddenly find themselves terminally disrupted. Investors see the eventual writing on the wall for podcasts, movies and other forms of digitisable contents as well.
Market impact: Investors recognise that Spotify's future is bleak, sending its shares down 33 percent in 2022.
9. New hypersonic tech drives space race and new cold war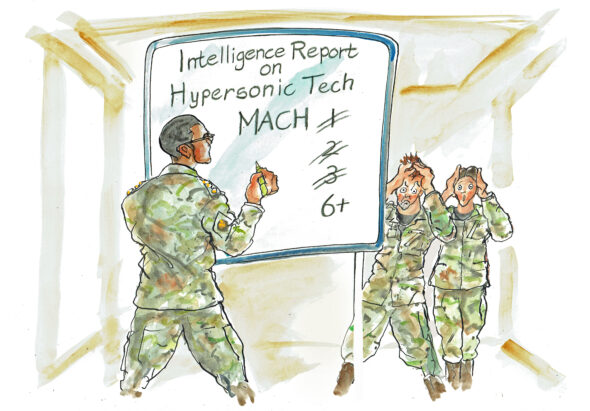 Summary: The latest hypersonic missile tests are driving a widening sense of insecurity as this tech renders legacy conventional and even nuclear military hardware obsolete. In 2022 a massive hypersonic arms race develops among major militaries as no country wants to feel left behind.
In 2022, it is clear from funding priorities that hypersonics and space are the heart of a new phase of the deepening rivalry between the US and China on all fronts—economic and military. Other major powers with advanced military tech join in as well, likely including Russia, India, Israel and the EU.
Hypersonic capabilities represent a game-changing threat to the long-standing military strategic status quo, as the technology brings asymmetric new defensive and offensive capabilities that upset the two massive pillars of military strategy of recent decades. The first is the potential for devastating hypersonic tech defence against the conventional attack capabilities of long-range bombing aircraft, as well as the so-called "deep water" navy of ships that can bring the fight to any corner of the globe without refuelling.
The second pillar of the old Cold War era was the principle of mutually assured destruction (MAD) in the event of nuclear war, under which it was pointless to launch a nuclear war as long as there was still time for the opponent to launch an equally destructive ICBM counterattack from land- and submarine-based ballistic missiles. But the speed and agility of hypersonic tech introduces the belief that superior defence could thwart an attack entirely and even allow for new first-strike capabilities.
Market impact: massive funding for companies like Raytheon that build hypersonic tech with space delivery capabilities and underperformance of "expensive conventional hardware" companies in the aircraft and ship-building side of the military hardware equation.
10. Medical breakthrough extends average life expectancy 25 years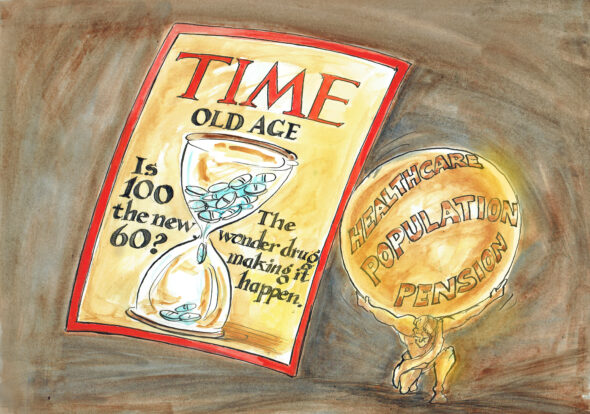 Summary: Young forever, or for at least a lot longer. In 2022, a key breakthrough in biomedicine brings the prospect of extending productive adulthood and the average life expectancy by up to 25 years, prompting projected ethical, environmental and fiscal crises of epic proportions.
The year 2022 sees a breakthrough from a multi-factor approach, as a cocktail of treatments is put together that tweaks cell-level processes in order to extend their life and thus the life of the organism composed of those cells. It's not cheap, but it's effective and has already been demonstrated on laboratory mice containing human DNA, extending their lives some 30% and more.
The prospect of a massive leap in human quality of life and life expectancy are huge wins for mankind but bring an enormous ethical and financial quandary. Imagine that almost everyone can look forward to living to an average age of 115 and more healthily. What would this mean for private and government pensions, or even the ability or desire to retire? And what about the cost to the planet if it is set to support billions more people, not to mention whether or not there is enough food to go around? And then there is the ethical question of whether it is humane to not make the cocktail available to everyone. In short, how would our value systems, political systems and planet cope?