Saxo Bank, the online trading and investment specialist, has enabled client identification on SaxoTraderGO through biometric verification.
This application update for iPhones and iPads containing Touch ID support has been released to Saxo Bank clients and is now globally available. As an optional feature, the update is capable of storing multiple account credentials.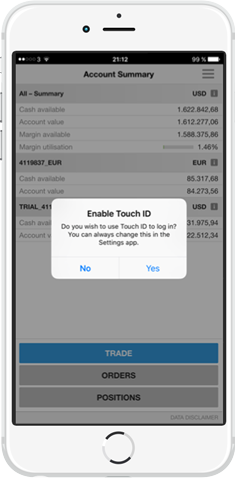 Commenting on the update, Christian Hammer, Saxo Bank's Head of Platforms, said: "With the launch of the SaxoTraderGO platform we have seen a continuation in the rising trend in client activity originating from mobile devices. By introducing Touch ID support, we are both enhancing ease of account access while maintaining the high-level of security we demand for our clients."
"As of December, more than 50 percent of our existing clients had migrated to SaxoTraderGO. It is our continued focus on technological innovation that makes this the platform of choice."
Simultaneously a dedicated chat section, enabling chat communication between clients and Saxo Bank's sales traders, has been added. Furthermore multi-screen support on desktop is introduced. This feature will allow the chart module to be popped-out into a separate browser window enabling clients to interact with it on a second screen while still connected with the main platform window.
SaxoTraderGO is the bank's next generation platform launched in May 2015 built with Saxo's OpenAPI as its foundation. The OpenAPI is a service infrastructure supporting the entire trade life cycle – from pre-trade, execution and post-trade services for ETFs, cash stocks, CFDs, futures, Options and FX, allowing Saxo's institutional clients to develop new, innovative front-end solutions and integrate trading and investment capabilities directly into their own applications and systems.