Dutch designer Iris van Herpen unveiled a new piece at the Paris Fashion Week for Haute Couture created using 3D printing technology from Belgian company Materialise. The design was made using a cutting-edge application of the technology, which is creating a small revolution in fashion and design in the same way that it has already revolutionised medicine. Materialise is a pioneer in Additive Manufacturing (AM) software and solutions, more commonly known as 3D printing, which has grown in size from a university spin-off to a multinational thanks in part to EU research funding. 
Speaking about the latest collection Sven Hermans, Account Manager for Materialise said: "For the first time we have worked with Iris van Herpen to produce a hybrid creation incorporating unique, transparent bone-like structures produced with Mammoth Stereolithography. Thanks to 3D printing the dresses are seamless and made to measure. It is exciting working with Iris van Herpen to bring her complex geometrical designs to life; 3D printing does what no other form of clothing manufacture can do when complex shapes need to be created quickly and as one piece."
How it works
The design was first created on a computer in collaboration with Isaie Bloch, a Belgian architect and CG artist, before being optimised for 3D printing using Materialise software. At this point flaws or obstacles were fixed before work continued and the design was sent to the printer. The design was then brought to life using Mammoth Stereolithography, an additive manufacturing technique which creates objects layer by layer. UV lasers scan the design into a liquid resin that hardens wherever the laser hits and the 3D object gradually comes to life.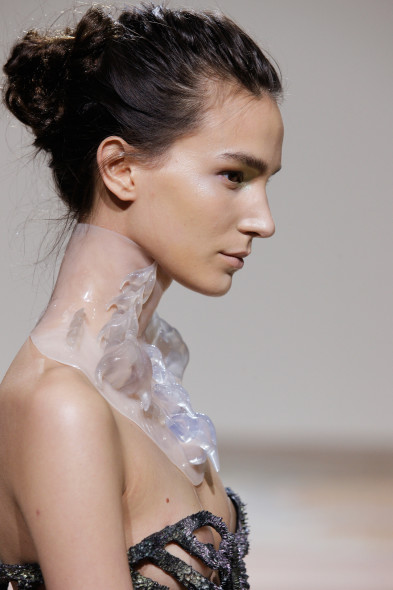 Materialise supported by EU
Materialise originated as a university project focused on rapid prototyping applications. As the company evolved, it began providing surgeons with highly accurate models of their patients' anatomy after performing CT or MR scans and transforming that information into printable models. The models have improved both diagnosis and surgical planning considerably. They have also been used as masters for surgical implants or prostheses. Through on-going research and a strong focus on innovation supported by the European Union, the applications of the technology continued to evolve and diversify and are today accessible to the medical, automotive, design and consumer market segments. The company is now a technological leader in 3D printing, employing almost 900 people, boosting European industry and creating jobs.
Wilfried Vancraen, founder and CEO of Materialise, said: "Materialise would never have become what it is without European backing. It gave a small company the chance to do longer-term development."
3D printing has become an important prototyping technology, producing one-off models of newly designed products efficiently by giving feedback to the development engineers and designers in the design stages. The technology was also recently used at La Fenice Opera House in Venice for their production of Madame Butterfly staged by contemporary Japanese artist, Mariko Mori. Joris Debo, Creative Director at Materialise worked with the Mariko Mori Studio to create a 3D printed solution for the wings of the main character.
"Materialise is an outstanding example of innovation in the European Union. It has taken technology developed to help surgeons rebuild people's bodies and applied it to other, design-critical sectors," comments Michael Jennings, European Commission spokesman responsible for research, innovation and science. "The cultural and creative industries now benefitting from this technology account for 3.3% of Europe's economy and employ 6.7 million people. So we now have a successful manufacturing process developed in Europe supporting one of our key export industries."
Future of 3D printing in design and manufacturing
3D printing has evolved and is being increasingly recognised as a complete manufacturing technology. The advantages and potential of the technology are multiple: stock is not necessary as you print what you need, the time-to-market is very short (once you make a design modification to a 3D file you can continue producing), the technology allows for mass-customisation and the creation of many unique products. You can also make very complex shapes that are impossible with conventional techniques.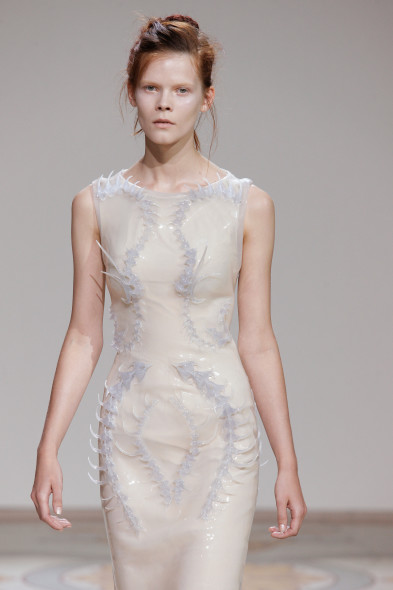 About European research and innovation funding
In 2014 the European Union will launch a new, seven year research and innovation funding programme called Horizon 2020. Since 2007 the EU has already invested nearly €50 billion in research and innovation projects to support Europe's economic competitiveness and extend the frontiers of human knowledge. The EU research budget represents around 12 percent of total public spending on research by the EU's 28 member states and is focused mainly in areas like health, the environment, transport, food and energy. Research partnerships with the pharmaceutical, aerospace, car and electronics industries have also been formed to encourage private sector investment in support of future growth and high skill job creation. Horizon 2020 will have an even greater focus on turning excellent ideas into marketable products, processes and services.For the latest information on European research and innovation, go to:
http://www.facebook.com/innovation.union
http://twitter.com/innovationunion
About Materialise
With its headquarters in Leuven, Belgium, and branches worldwide, Materialise has been playing an active role in the field of Additive Manufacturing (AM) since 1990. In addition to having the largest capacity of AM equipment in Europe, Materialise also enjoys a stellar reputation as a provider of innovative software solutions. They have used their experience and expertise to create a better and healthier world through their involvement in AM for industrial and medical applications, and by providing bio-medical and clinical solutions such as medical image processing and surgical simulations. Materialise has developed unique solutions that make a world of difference for its many customers with their prototyping, production, and medical needs. These customers range from large companies in the automotive, consumer electronics, and consumables sectors; to famous hospitals, research institutes, and clinicians; to individual consumers interested in bringing their own unique creations to life through i.materialise or who want to purchase a celebrated .MGX design. Materialise's Mammoth machines are the world's largest and fastest stereolithography machines, built by and unique to the company. For further information on Materialise design applications, go to: http://www.materialise.com