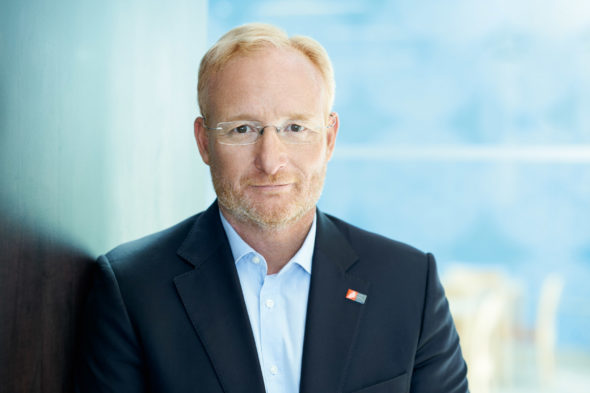 Patent applications filed by Polish inventors, companies and research institutions with the European Patent Office (EPO) grew by 19.7% in 2018, one of the highest growth rates among European countries and well above the average of the 38 EPO member states (+3.8%), according to the EPO Annual Report 2018 published today. It is the second consecutive year of strong and above-average growth (+13.5% in 2017), following a decline of 30.6% in 2016. Last year, Polish applicants filed 534 patent applications with the EPO (2017: 446).
Overall, the European Patent Office received 174 317 European patent applications in 2018, an increase of 4.6% compared to 2017. Applications from China rose by 8.8%, their lowest rate in the past five years. The US remained the top country of origin, accounting for 25% of total applications, followed by Germany, Japan, France, and China.
"In terms of patents, 2018 was another very positive year for Poland," said EPO President António Campinos. "With strong growth for two years in a row, we now see a positive upward trend that is based on double-digit growth in a dozen different key technology fields. This is a very good message, as industries with high use of intellectual property rights, including patents, strongly contribute to the economy in terms of employment, growth and trade. The contribution of academic institutions to Poland's patenting activities is a particular strongpoint."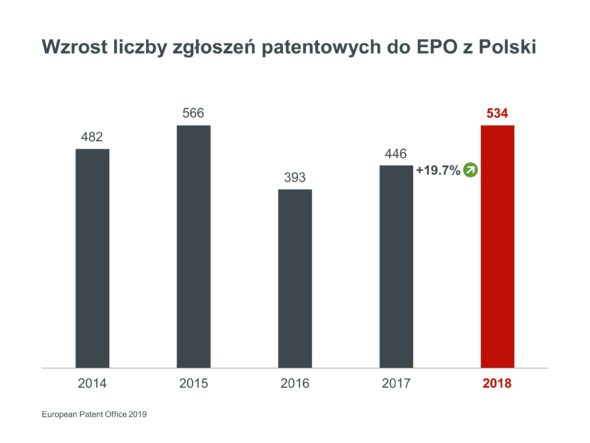 Double-digit growth across a dozen key technologies
The fields of 'thermal processes' (+50%) and transport (+11.4%, where many patents in the automotive sector are filed) were the technology sectors in which the most European patent applications were filed from Poland (39 each), and each accounted for 7% of all Polish applications at the EPO in 2018. Strong growth was recorded in computer technology (+160%), 'materials, metallurgy' (+110%), mechanical elements (+91.7%), civil engineering (+63.6%), and pharmaceuticals (+50%). Of the 15 most important technology fields in Poland, twelve showed double-digit growth.
Unique: three research and academic institutions among top 5 patent applicants
Once again, universities were drivers of Polish patenting activities in 2018, even more so than in most other European countries. Uniwersytet Jagiellonski (Jagiellonian University in Krakow) with 12 patent applications took the top spot in the ranking of Polish applicants at the EPO, followed by Zaklady Pharmaceuticals (6 applications), AGH University of Science and Technology (5 applications), and Gdansk University of Technology and Fakro Group (4 applications each). 
Warsaw region leads in number of patent applications
The Warsaw region leads the Polish regional ranking with a share of 24.2% (down from 28% in the previous year) of all Polish patent applications, ahead of Lesser Poland (16.9%), the Pomerania region (9.8%), the Silesian region (8.8%), and the Lower Silesian region (8.3%).
High demand for patent protection across Europe
The EPO received more patent applications from most European countries in 2018 than in the previous year (Fig.: Top 50 countries for applications), except for France (-2.8%) and Finland (-3.8%). Besides Poland, patent applications were up from Italy (+0.9%), the Netherlands (+1,4%), Austria (+3.8%), Germany (+4.7%), Spain (+6.3%), Sweden (+7.1%), the UK (+7.8%), Switzerland (7.8%), Belgium (+9.7%), and Denmark (+14.4%). The EPO also received more patent applications from companies and inventors in the other Central European countries including the Czech Republic (+17.5%), Hungary (+26.3%) and Slovakia (+22%), albeit from a lower base than Poland.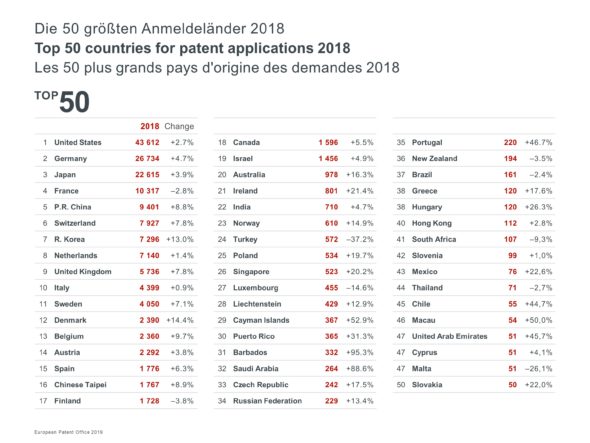 Medical technology top field – life sciences growing fast 
Overall, medical technology remains the technical field in which the most patent applications are filed at the EPO (up 5% in 2018), once again followed by digital communication and computer technology. The strongest growth among the top ten fields was recorded in life sciences, with pharmaceuticals and biotechnology combined growing by 13%.
Siemens heads the list of applicants
Siemens was the top patent applicant at the EPO in 2018 with 2 493 applications (it last headed the ranking in 2011), switching positions with Huawei from China, which came in second. They were followed by Samsung and LG of South Korea, United Technologies from the US. The top ten was made up of four companies from Europe, three from the US, two from the Republic of Korea and one from China.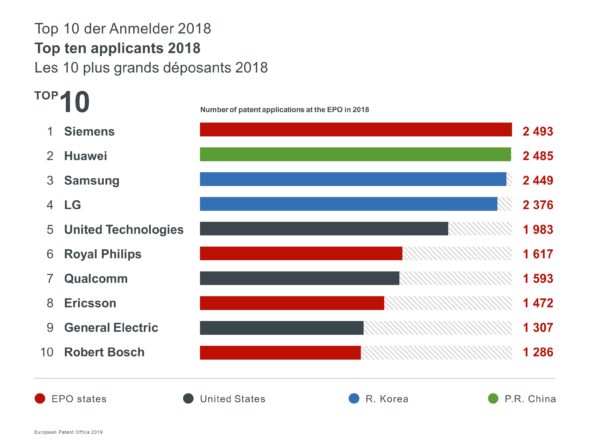 For detailed statistics, and a review of our activities in 2018, see the EPO's Annual Report at: www.epo.org/annual-report2018