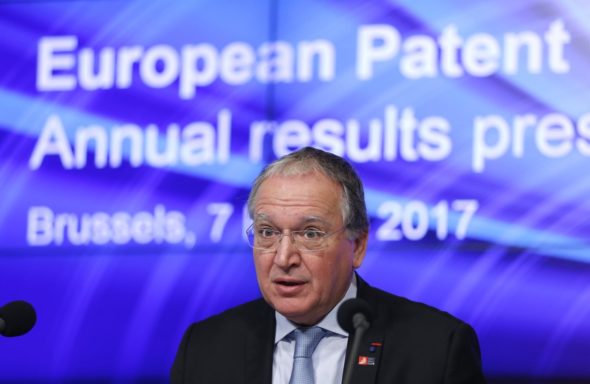 Patents granted to Polish companies and research institutions by the European Patent Office (EPO) grew by 19.2% in 2016. Last year Polish research institutes and companies were granted 180 patents by the EPO (2015: 151), a new record high. (Fig.: Growth of Polish patent grants at the EPO) But the number of patent applications from Poland at the European Patent Office, which provides the basis for future patent grants[1], decreased by -27.9% compared to the previous year (+17.4% in 2015).
Overall, the European Patent Office received nearly 160 000 European patent applications in 2016, on a par with the record number reached the year before (Fig.: Growth of European patent applications). There was strong growth again in patent applications from China (+24.8%) and from Korea (+6.5%), a decrease in applications from the US (-5.9%) and Japan (-1.9%), whilst the volume of applications originating from the 38 EPO member states remained almost stable last year (-0.2%). The top five countries of origin were the US, Germany, Japan, France and Switzerland. (Fig.: Origin of applications)
"The 2016 results confirm Europe's attractiveness as a leading global marketplace for innovation," said EPO President Benoît Battistelli. "In a rapidly changing political and economic landscape, companies from around the world have kept up their demand for patent protection in Europe. While we see impressive growth in applications from Asia, European companies maintain their role as drivers of innovation and economic growth in their home market, and are proving their resilience in the face of unsettled economic conditions."
Transport technology and Mechanical elements with strongest growth
Within the 10 most important technology fields at the EPO, applications from Poland grew strongest in Mechanical elements (+89%), and Transport (+65%), where many patent applications from the automotive sector are filed. As a consequence of the increase in Transport, that technology field accounted for 8% of all Polish patent applications in 2016, up from 4% in the previous year, making it the most important technology for Poland (on par with Civil engineering that also had an 8% share in 2016). The biggest drops in patent applications were seen in the technology fields Measurement (-66%) and Electrical machinery (-57%).
Unique: 6 research and academic institutions among top 8 patent applicants
In a marked contrast to most European countries, universities and research institutes were the key drivers of Polish patenting activities in 2016. Of the 8 most important patent applicants, six were universities or research institutions. With 12 applications, Uniwersytet Jagiellonski (Jagiellonian University in Krakow) was Poland's most active patent applicant at the EPO, followed by Pharmaceutical company Polpharma (10 applications), roof window producer Fakro (6), and Wroclawskie Centrum Badan EIT+ (Wroclaw Research Center; 6). (Fig.: Top applicants at the EPO from Poland in 2016)
Mazovian region with most patent applications
The Mazovian region leads the Polish regional ranking with a share of almost 30% (up from 25% in the previous year) of all Polish patent applications, ahead of Lesser Poland (15.7%, up from 14% in the previous year), the Lower Silesian region (11.3%), and the Silesian region (9.1%).
Varied activity across Europe
Among European countries there were marked differences in patenting activity at the EPO in 2016. Among the larger European economies with higher volumes, Belgium led the board, posting growth of 7% over 2015. Other countries including Italy (+4.5%), Austria (+2.6%), Spain (+2.6%), Switzerland (+2.5%), the UK (+1.8%) and Germany (+1.1%) also showed increases. Patent applications from France (-2.5%) and the Netherlands (-3.6%) dropped. The EPO received fewer patent applications from some of the Nordic states, namely Finland (-8.8%), Sweden (-7.4%), and Denmark (-2.8%). (Fig.: Top 50 countries for applications) 
Most patents filed in medical technology
Globally, medical technology remains the field with the highest number of patent applications (despite a slight drop of -2.1% in 2016), again followed by Digital communication and Computer technology. (Fig.: Technical fields with most applications). The strongest growth (of the top ten fields) was in Electrical machinery/apparatus/energy (+5.1%), followed by Transport (+3.6%) and Computer technology (+2.9%).
Philips heads EPO company ranking
Philips filed the most patent applications at the EPO in 2016, the second year running. Huawei was the new No. 2 (moving up from 11th in just three years), followed by Samsung, LG and United Technologies. The top 10 was made up of four companies from Europe, three from the US, two from Korea and one from China. (Fig.: Top 10 applicants in 2016)
For detailed statistics, and a report on activities in 2016, see the EPO's annual report at: www.epo.org/annual-report2016
[1] A patent application is the dossier which is filed with a patent office by an inventor or business. It is the step that comes before a patent is granted following examination if all the legal criteria for a patent are fulfilled.