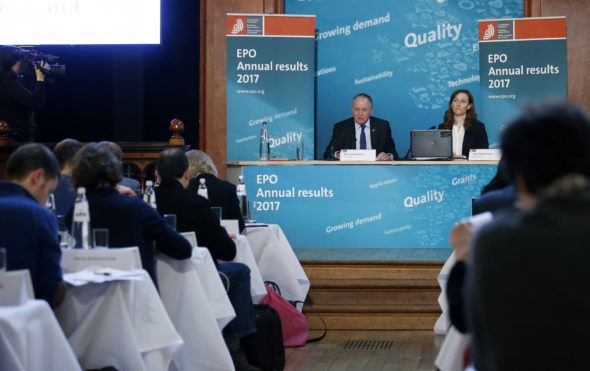 Patent applications filed by Polish inventors, companies and research institutions with the European Patent Office (EPO) grew by 14.1% in 2017, one of highest growth rates and well above the EU28 average of 2.6%, according to the EPO's Annual Report 2017 published today. Last year Polish applicants filed 469 patent applications with the EPO (2016: 411). The growth contrasts with the steep drop of -27.4% in the previous year.
The number of patents granted to Polish researchers and companies grew even stronger by 20% (surpassing the 19.2% growth rate from the previous year) to reach a new high of 216 granted European patents (up from 180).
A patent is granted by the patent office following examination if all legal criteria for a patent are fulfilled. A patent application is the step that comes before a patent is granted. It refers to the dossier which is filed with the patent office by an inventor or business for examination.
Overall, the European Patent Office received nearly 166 000 European patent applications in 2017, an increase of +3.9% compared to 2016 and a new record number. (Fig.: Growth of European patent applications). There was strong growth again in applications from China (+16.6%) which overtook Switzerland to make it into the top 5 countries (US, Germany, Japan, France, China) for the first time.
"In terms of patents, 2017 was a positive year for Europe," said EPO President Benoît Battistelli. "The growing demand for European patents confirms Europe's attractiveness as a leading technology market. European companies, too, filed for more patents than ever before – evidence of their strength in innovation, and of their confidence in our services. The EPO has successfully responded to the sustained demand with efficiency measures that have increased production, productivity, and timeliness. At the same time we have enhanced the quality of our products and services. The EPO's staff should be commended for their outstanding efforts in 2017, which led to the Office's best results ever."
Medical technology and Mechanical elements are most important technologies
With 43 (up from 22) applications nearly doubling, Medical technology remained the No. 1 technology in Poland with the most European patent applications, accounting for 9% (up from 5% in the previous year) of all Polish patent applications at the EPO. The second most important technology was Mechanical Elements, which also posted the strongest growth of all leading technologies fields: +236.4% (37 applications up from 11, and a share of 8% of all Polish applications, up from 3%). Transport came in third place with 36 applications, up from 31 (+16.1%).
Unique: 4 research and academic institutions among top 7 patent applicants
Although Synthos with 12 patent applications took the top spot in the Polish ranking, universities and research institutes again were the drivers of Polish patenting activities in 2017, which is exceptional compared to the other states in Eruope. Of the 7 most important patent applicants, 4 were universities or research institutions. With 7 applications, Uniwersytet Jagiellonski (Jagiellonian University in Krakow) was Poland's second most active patent applicant at the EPO, followed by airplane maker Flaris (6 applications), University of Gdansk (6), Institute of Biochemistry and Biophysics (6) and Warsaw Medical University (5).
Mazovian region with most patent applications
The Mazovian region leads the Polish regional ranking with a share of 32.0% (up from 30.1% in the previous year and 26.3% two years ago) of all Polish patent applications, ahead of Lesser Poland (16.2% up from 15.9% in the previous year), the Lower Silesian region (9.6%, down from 11.3%), and the Silesian region (9.2%).
Growth across Europe
Most European countries filed more patent applications at the EPO in 2017 than in the previous year (Fig.: Top 50 countries for applications). Patent applications were up from France (+0.5%), Germany (+1.9%), the UK (+2.4%), the Netherlands (+2.7%), and Sweden (+4.9%). Portugal (-5.7%), Belgium (-1.9%), and Finland (-0.1%) were European countries to have fewer patent applications in 2017.
Most patents filed in medical technology
Medical technology remains the field with the greatest number of patent applications at the EPO (up +6.2%), again followed by Digital communication and Computer technology (Fig.: Technical fields with most applications). The strongest growth (of the top 10 fields) was recorded in Biotechnology (+14.5%), followed by Parmaceuticals (+8.1%) and Measurement (+6.6%).
Huawei heads EPO company ranking
For the first time in the history of the EPO, a Chinese company – Huawei – ranked first in filing the most patent applications at the Office. Siemens moved up from sixth place to second, followed by LG, Samsung and Qualcomm. The top 10 list of applicants was made up of four companies from Europe, three from the US, two from Korea and one from China.
For detailed statistics, and a review of our activities in 2017, see the EPO's Annual Report at: www.epo.org/annual-report2017