Patent applications filed by Polish companies, universities, and research institutions with the European Patent Office (EPO) decreased by 9.6% in 2019, according to the EPO Patent Index 2019 published today. The drop follows two years of strong growth, continuing a pattern of two years of strong growth being followed by a year of decreasing patent applications, which repeated itself three times over the past decade. From a longer-term perspective there has been strong growth, however: Over the past decade patent applications from Poland with the EPO have more than doubled (+129%), growing from 205 in 2010 to 469 in 2019.
Overall, the European Patent Office received over 181 000 patent applications in 2019, an increase of 4% compared to 2018 and a new all-time high. (Fig.: Growth of European patent applications). Some 45% of the applications at the EPO originated from the 38 EPO member states and 55% from other regions. The top five countries of origin were the US (25% of the total), followed by Germany (15%), Japan (12%), China (7%) and France (6%) (Fig.: Top 50 countries for applications). The increase in applications at the EPO in 2019 was mainly fuelled by strong growth from China, the US, and South Korea. Another clear trend was the surge in patent applications in the fields of digital communication and computer technology, reflecting the rapidly growing importance of technologies related to digital transformation.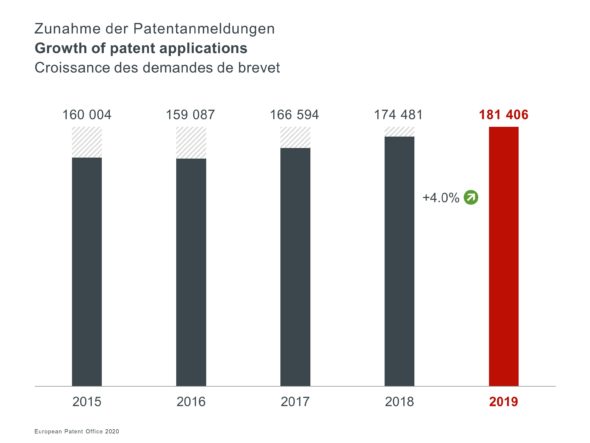 The drop in European patent applications filed from businesses in Poland last year was largely caused by fewer patent applications being filed in thermal processes, organic fine chemistry, civil engineering, and electrical machinery, apparatus, energy'. In addition, universities filed fewer patent applications in 2019. In contrast, however, nine of the 15 most important technology fields showed growth. The leading field, pharmaceuticals, where most patent applications from Poland were filed, grew by 58.3%, and the second-largest field, transport, which includes the automotive sector, grew by 18.8%. 'Other special machines', where patent applications in 3D printing are filed, showed a steep growth (+78.9%) and jumped from rank twelve to No. 5 among the leading Polish technology fields. This corresponds to a manufacturer of 3D printers becoming the third-largest Polish patent applicant.
"The longer-term growth of patent applications is a sign of Poland continuously strengthening its research and development, and thus steadily increasing its capacity to innovate," said EPO President António Campinos. "The use of patents is essential for making the country and its companies more competitive, and a prerequisite for creating jobs. The broad range of technologies in which patent applications from Poland are filed shows that Polish innovation rests on a firm footing."
Fewer universities among the top applicants
Biopharmaceutical company RYVU Therapeutics and Uniwersytet Jagiellonski (Jagiellonian University in Krakow), both with 8 patent applications, shared the top spot in the Polish ranking, followed by 3D printer manufacturer 3D Gence and the Silesian Institute of Technology, both with 7 applications, and Adamed Pharma (5 applications). There was a slight drop in the showing of universities and research institutes: with only two universities among the top 5 list in 2019 compared to three in 2018.
Warsaw region leads in number of patent applications
The Warsaw region leads the Polish regional ranking with a share of 26% (up from 24% in the previous year) of all Polish patent applications, ahead of Lesser Poland (17.1%), the Silesian region (11.5%), and the Lower Silesian region (6.8%).
Overall patent applications at the EPO: 5G and AI as drivers of growth
Among the top technical fields, digital communication has for the first time in more than a decade taken the top spot in terms of overall patent applications filed at the EPO. It posted the strongest growth in 2019 (+19.6% over 2018), and overtook medical technology (+0.9%), which had been the most patent-active technology since 2006. (Fig.: Leading technology fields). In digital communication, which includes technologies that are crucial to implementing 5G wireless networks, the share of patent applications from China, the US and Europe were nearly on a par, with each accounting for around a quarter of the total. With an increase of 64.6%, Chinese companies contributed most to the growth in this field. The second fastest-growing field at the EPO in 2019 was computer technology (+10.2%). Here the driving factor for growth was the increase in patent applications in artificial intelligence. US companies (+14.6% over 2018) accounted for nearly 40% of all patent applications filed in computer technology, followed by the 38 EPO member states (+9.3%), with almost 30% of the total, and China (+18.7%) with a share of just over 10%.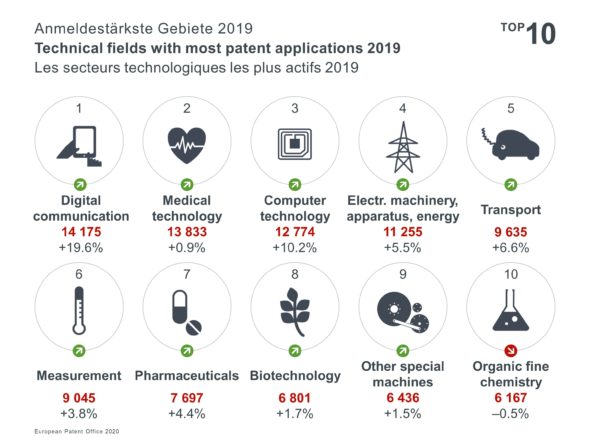 European trends: France with decrease while Sweden, the UK and Spain show growth
Within the EPO member states, patent applications from Sweden (+8%), the UK (+6.9%), and Spain (+6%) showed significant growth in 2019 compared to 2018, whereas those from Germany remained almost stable (+0.5%). Along with Poland, there were also fewer applications filed from France (-2.9%), the Netherlands (-2.6%), and Finland (-1.4%).
Huawei heads list of applicants
Huawei topped the table of patent applicants at the EPO in 2019. Samsung moved up to second place and LG gained a position to take third. The two South Korean firms were followed by US company United Technologies and the top applicant of 2018, Siemens, which dropped to fifth.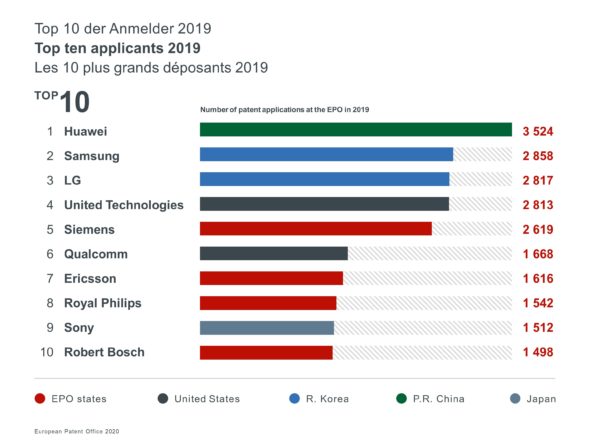 For detailed statistics, see the Patent Indicators 2019 at www.epo.org/patent-index2019