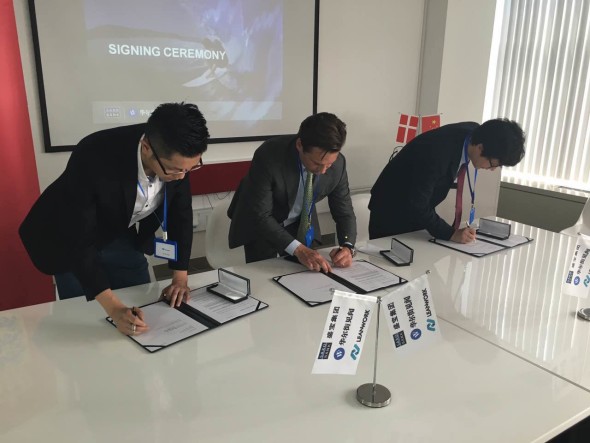 Saxo Bank announced today a tri-party agreement between Saxo Bank, Wallstreet CN and LeanWork which will significantly bolster Saxo Bank's presence in Greater China following its launch in the Shanghai Free-Trade Zone in September 2015.
The users of Wallstreet CN, one of the most popular financial content providers in Greater China, will be able to access global capital markets from WEEX, an online trading service platform created by Wallstreet CN, with trading system developed by LeanWork and Open API powered by Saxo Bank.
"This unique partnership underlines the strength of Saxo's Open API which with limitless customization options will increase the power of trading technology now and in the future. This truly is a win-win for all parties and at Saxo Bank we are excited to be working with two exceptionally successful start-ups which empower Chinese speaking investors," said Kim Fournais, co-founder and CEO of Saxo Bank.
Saxo Bank is one of the first financial institutions to give access to its trading infrastructure through the bank's REST based API called Open API. The move, which covers Saxo's multi-asset trading and back office infrastructure, will allow its partners, clients and external developers to access over 20 years of trading infrastructure innovation and enable them to customise their trading experience and create new revenue streams.
Wallstreet CN was founded by Wu Xiaopeng in 2013 and conceived in the form of a personal blog when he was stationed overseas in New York.  Upon his return to China in May 2013, the company was registered in Shanghai and received venture capital investment from China Ping An and Hai Tong Securities' investment funds, along with several other well-known institutions in China.
During the past three years, Wallstreet CN has accumulated 15 million monthly unique visitors from scratch. Today it is the leading financial news source providing the most influential market news and economic data to Chinese speaking investors.
"I am honoured to partner with Saxo Bank and LeanWork. Saxo Bank is a leader in online trading technology. The global reach of Saxo Bank and the local touch of LeanWork & Wallstreet CN combined will make WEEX, the trading platform, a powerful value proposition for Chinese speaking investors," said Wu Xiaopeng, founder and CEO, Wallstreet CN.
LeanWork is a technology start-up based in Hong Kong which originally started with the creation of a multiple broker solution and has overtime gained significant market share amongst the Chinese speaking broker community. Today LeanWork has a sizable IT development team with over 30 IT developers in its offices across Greater China.
"No team is better than Saxo Bank, Wallstreet CN and LeanWork combined. As a leading financial institution in online trading, Saxo Bank provides access to over 30,000 financial instruments. LeanWork's local understanding and strength in IT development makes the best local user experience a reality." said Darren Qian, CEO and founder of LeanWork.
The partnership was sealed at an official ceremony at Danish Consulate in Shanghai on April 13th, 2016 with attendance of Nicolai Prytz, Danish Consul General of Shanghai.