The world's most famous Georgian mineral water Borjomi can play an important role during the holidays and the carnival on our tables. It is the only water so rich in minerals, which provide not only taste, but also good health effects.
Borjomi is an integral element on the table during all Georgian feasts. It is a natural mineral water with an unique composition of minerals from the volcanic depths of Georgia, born deep in the mountains of the Caucasus. Its hot stream penetrates through layers of soil and springs out in the valley of Borjomi located in the largest national park in Europe – Borjomi Kharagauli.
The water gained global fame thanks to its exceptional composition and unique rich taste. There have been many studies on the composition of the Borjomi water and its beneficial effects on the human body. Nutritionists and gastroenterologists in Georgia, Ukraine and the Baltic States recommend the implementation of the Borjomi water as part of a daily diet. Many people drink this natural mineral water to help overcoming the negative effects after eating heavy meals or drinking alcohol.
A typical Georgian party starts with drinking of Borjomi. When a guest comes to a Georgian house, the host sets a long table, calls friends, invites a master of ceremony (Tamada) and puts on the table the Borjomi water and the best wine he has at home. Friendship and hospitality are the main characteristics of each Georgian. "Guests are a gift from God" – as the saying goes in every Georgian house, which treats the guests with the best food they have.
Georgian cuisine is kind of art. The main dishes here are nutritious and incredibly tasty. Guests invited to a lavish Georgian party will be mainly offered to taste BADRIJANI – baked aubergine rolls with walnut paste, ISPANAKHI – spinach balls with walnuts and coriander, LOBIO – red beans with fresh herbs and spices, TSITSAKA – pickled peppers with garlic, celery and sheep cheese, smoked aubergine pasta with lavash, KHACHAPURI – traditional hot cheese cake, NEKNI – pork ribs marinated in Georgian spices, KOFTA – lamb meatballs in tomato sauce, SOKO – fried oyster mushrooms with fresh tarragon and coriander. Of course, KHINKALI – dumplings with various types of meat in broth – is a must on the table.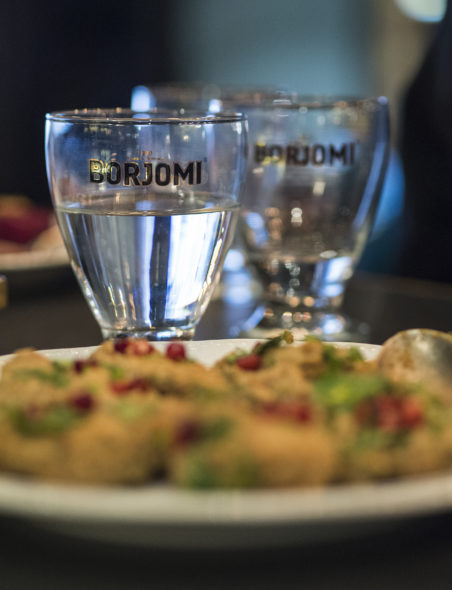 In the upcoming holiday season and the carnival many opportunities to eat, play, also drinking alcohol are waiting for us. It is good to know how can we help ourselves when we eat heavy food, or overdo the amount of alcohol consumed. This world-renowned water is present on every Georgian feast – not only because of its taste value, but also beneficial impact to the human body. Because the Polish cuisine are equally tasteful but hard to digest, and during the holidays and carnival we often forget ourselves, the beneficial effects of Borjomi will be helpful to us during this period.