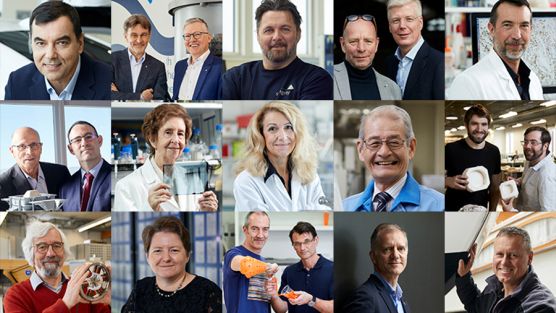 The European Patent Office (EPO) today announces the finalists nominated for the European Inventor Award 2019. The Award, now in its 14th year, celebrates the genius and creativity of inventors and inventor teams for their contributions to scientific and technological progress, their role in generating economic growth, and their impact on our daily lives.
"These inventors are tackling some of society's most pressing challenges head-on. From fighting cancer to reducing plastic waste, the contribution of our finalists is spearheading a drive towards a better future, " said EPO President António Campinos. "The range and impact of their innovations are also positive for the European economy. In the EU, sectors with a high use of patents, trademarks and registered designs employ around 60 million people, and account for over 90% of external trade. The European patent system not only supports inventors like our finalists, but also benefits society as a whole. "
The winners of the 2019 edition of the EPO's annual innovation prize will be announced at a ceremony in Vienna on 20 June. The Award will be given in the five categories of "Industry", "Research", "Non-EPO countries", "SMEs" and "Lifetime achievement". The finalists and winners are selected by an independent, international jury. In addition, the public will choose the winner of the "Popular Prize" from among the 15 finalists by voting online on the EPO's website in the run-up to the ceremony.
The 2019 finalists come from 12 countries: Austria, France, Germany, Israel, Italy, Japan, the Netherlands, Norway, Poland, Spain, the United Kingdom, and the United States. They were selected by the jury from a pool of hundreds of inventors and teams of inventors put forward by members of the public, national patent offices around Europe, and EPO staff.
The inventions cover a range of fields including eco-packaging, rechargeable batteries, genetics, agricultural technology, video coding, cancer diagnosis, electron microscopy, advanced driver assistance systems and plastic recycling.
The choice of Vienna, a city at the heart of Europe, as the location to hold the Award ceremony is a fitting stage because it has a long, historic relationship with intellectual property; the Vienna Exhibition of 1873 provided the setting for the first multilateral discussions on industrial property protection. Today, nearly 150 years later, the city is home to the EPO's centre for patent information.
The 2019 finalists in the five categories are:
Industry
Klaus Feichtinger and Manfred Hackl (Austria): Higher-performance plastic recycling
By thinking in a new direction, these Austrian inventors reshaped plastic recycling. Waste plastics of many types can be turned into high quality pellets for new products. Today, more than 6 000 of their machines produce over 14.5 million tonnes of plastic pellets annually.
Further information
Antonio Corredor Molguero and Carlos Fermin Menéndez Diaz Molguero (Spain): Concrete mould for better breakwaters
The Spanish pair didn't break the mould – they totally reinvented it. Their innovative concrete mould for Cubipods has made it faster and easier to build more effective breakwaters in ports, reducing construction costs by up to 45%.
Further information
Alexander van der Lely and Karel van den Berg (Netherlands): Milking robots for healthier cows
This Dutch duo focus on "cow-friendly" automation: In keeping with cows' natural behaviour, their milking robot enables cows to decide when and how often they are milked. Their system brings animal welfare benefits, while increasing milk yields and reducing labour costs for farmers. The system's diagnostic tools help farmers monitor their herd more easily too.
Further information
Research
Jérôme Galon (France): Immunoscore®, a clearer cancer test
The French immunologist's diagnostic tool assesses the risk of relapse in cancer patients. It uses digital images of tumour samples and advanced software to measure immune response, improving the accuracy of prognosis. Thanks to Galon's invention, which is already in use at clinics around the world for colorectal cancer, doctors can provide more effective treatment, and tailor it to individual patients.
Further information
Matthias Mann (Germany): Protein analysis to diagnose disease
German proteomics pioneer Matthias Mann developed techniques to map all proteins at work in human cells using mass spectrometry – revealing tell-tale signs of disease before a person falls ill. His inventions aim to help clinicians better predict, diagnose and treat a range of medical conditions, including cancer and liver disease.
Further information
Patrizia Paterlini-Bréchot (Italy): ISET® blood filtration to detect tumour cells
The Italian oncologist and molecular biologist developed a highly sensitive blood filtering technology that makes it possible for doctors to detect cancer cells long before a tumour can be found with standard imaging techniques. The quick, non-invasive test can identify a single circulating tumour cell in a 10-millilitre blood sample, or roughly one in 50 billion blood cells.
Further information
Non-EPO countries
Eben Bayer and Gavin McIntyre (US): Eco-friendly packaging from mushrooms
Having seen how mycelia binds organic waste in nature, US inventors and product designers Eben Bayer and Gavin McIntyre grow packaging from mushrooms. Moulded into almost any shape, their materials stiffen when baked and are biodegradable.
Further information
Gideon Stein (Israel): Vision for vehicles to improve road safety
The Advanced Driver Assistance System developed by this Israeli engineer uses a single-lens camera and cutting-edge AI to spot and avoid traffic hazards in real time. Thanks to his invention, more than 30 million cars on the road worldwide are now safer to drive.
Further information
Akira Yoshino (Japan): Lithium-ion battery and its evolution
This Japanese scientist is the father of the lithium-ion battery (LIB). His rechargeable batteries power nearly five billion mobile phones, laptops and other portable devices, as well as electric vehicles. For over 30 years he has been dedicated to continually improving LIBs.
Further information
Small and medium-sized enterprises (SMEs)
Esben Beck (Norway): Lasers and AI for healthier salmon
Sea lice can severely impact salmon farm populations. Norwegian marine engineer Esben Beck has developed underwater robots that use image recognition, AI and lasers to identify, target and zap the parasites without using chemicals or antibiotics, nor stressing the fish.
Further information
Rik Breur (Netherlands): Marine antifouling fibre wrap
Inspired by a sea urchin's prickly surface, this Dutch inventor's anti-fouling fibre wrap is an environmentally-friendly alternative to toxic paints on ships and marine structures. Algae, barnacles and mussels just slide off it, saving boats up to 40% on their fuel consumption.
Further information
Richard Palmer, Philip Green (United Kingdom): Flexible armour that hardens on impact
These British material scientists developed an impregnated foam which is flexible, yet stiffens on impact. The unusual properties of dilatant liquids to absorb and disperse energy make their D3O® material perfect for a wide range of protective clothing.
Further information
Lifetime achievement
Margarita Salas Falgueras (Spain): DNA amplification for genomics
The Spanish molecular genetics pioneer invented a faster, simpler and more reliable way to replicate traces of DNA into quantities large enough for full genomic testing, using phi29 DNA polymerase. Her invention is now used widely in oncology, forensics and archaeology.
Further information
Maximilian Haider (Austria): Sharper electron microscopes
This Austrian physicist's vision solved a sixty-year-old problem, improving the image resolution in transmission electron microscopes (TEMs) five-fold. His electromagnetic corrective "lenses" are now used in 90% of all TEMs worldwide. Further information
Marta Karczewicz (Poland): Advances in video compression
This Polish mathematics genius and software engineer has been named as the inventor on almost 130 granted European patents. Her many contributions to technical standards and video codecs enable fast, high-quality video streaming, even on mobile devices.
Further information