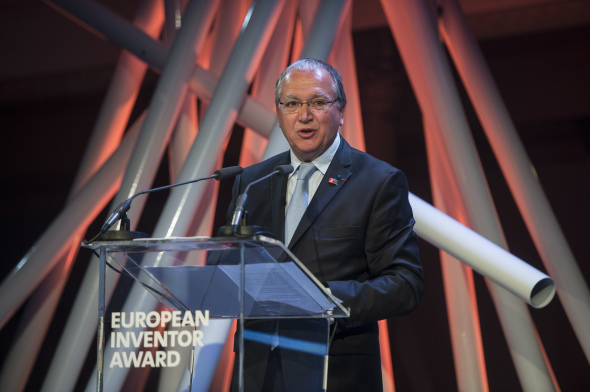 The European Patent Office (EPO) presented the European Inventor Award 2014 today in Berlin honouring outstanding inventors for their contribution to social, economic and technological progress. The award ceremony, held at the former Kaiserliches Telegrafenamt (Imperial Telegraph Office) in Germany's capital, was attended by some 500 guests from the fields of business, science, culture and politics, including German Federal Minister of Justice and Consumer Protection Heiko Maas.
The international jury selected the winners from 15 finalists, themselves selected from over 300 proposals for individual inventors and inventor teams put forward for the 2014 award. The winners are: Artur Fischer (Germany) in the category "Lifetime achievement", Koen Andries/Jérôme Guillemont (Belgium/France) in "Industry", Peter Holme Jensen (Denmark) in "Small and medium-sized enterprises", Christofer Toumazou (UK) in "Research" and Charles W. ("Chuck") Hull in "Non-European countries". In addition, the Popular Prize was awarded to public favourite Masahiro Hara and his team, who received nearly 30% of the more than 20 000 votes cast online. 
The winners at a glance:
The choice of the public was clear, as nearly 30% of the votes cast went to the Japanese team. Moreover, with over 20 000, the number of votes coming from around the world more than doubled over last year.
"Innovation is absolutely essential for Europe to generate growth and prosperity and secure its position among the leading industrial regions," said EPO President Benoît Battistelli at the award ceremony. "All of the inventors we are honouring here today have introduced game-changing technological innovations in their respective fields. Their achievements improve people's everyday lives, and represent substantial contributions to tackling major global challenges such as climate change, access to clean drinking water and improving health. Their ingenuity and creativity are indicative of Europe's position as a leading technology region. And patents play a major role in protecting this status on a daily basis."