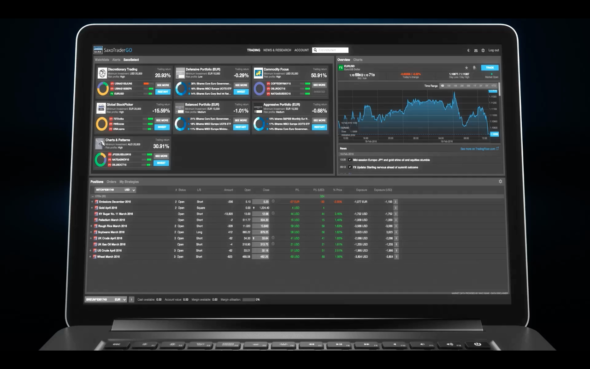 SaxoSelect Trading Strategies marks Saxo's further push into the digital and automated investment space
Saxo Bank the multi-asset trading and investment specialist announces the launch of its Alpha Trading Strategies offering as part of SaxoSelect, its fully digital and automated investment management service. Through the Trading Strategies, qualifying investors can access the best performing, pre-selected investment and trading strategies in real-time using Saxo's transparent platform.
The Trading Strategies offering enables sophisticated investors to access the performance of SaxoSelect's best traders who have been selected by Saxo for their proven track record and consistent outperformance. This provides investors with a unique and transparent opportunity to gain exposure to multi-asset class portfolios (including FX, equities, fixed income and commodities).
Two of the greatest obstacles faced by some investors when developing a multi-asset investment strategy are time and expertise. These challenges are address by the range of trading strategies selected by Saxo Bank, allowing investors to expand their portfolio quickly and skilfully, but also with full transparency.
Saxo's process for selecting suitable portfolios for acceptance in the Trading Strategies offering includes an in-depth due diligence process focusing on elements such as breadth of instrument universe, trading patterns and frequency, gearing, sustainability and risk management and not least the people behind the strategies. Furthermore, investors can determine the allocation of their investment across different portfolios.
SaxoSelect is a fully digital investment solution due to its integration with SaxoTraderGO, the bank's next generation trading platform, built on its OpenAPI. This integration allows clients to retain full control and visibility of their investments by enabling them to view all transactions in real time and access daily updates on the performance of their portfolios at the end of every day.
Commenting on the launch of the Alpha Strategy offering, Kim Fournais, Saxo Bank's Chief Executive Officer said, "We believe the world of investments and asset management will be disrupted through the advance of fintech. The launch of our Alpha Strategy offering is an excellent example of Saxo's growing role in this space. Our platform will not only provide qualifying investors with access to SaxoSelect's best performing multi-asset portfolios in a fully automated manner but is also an excellent opportunity for aspiring fund managers to demonstrate a track record of performance."
Adding to this, Didier Abbato, Head of SaxoSelect, said, "Saxo's technology is unique in that it can replicate and scale strategy manager's trades (across different instruments) in real-time for SaxoSelect clients. To the best of our knowledge, there is no other automated investment management service which enables investors to invest digitally in real-time, multi-product and multi-asset trading strategies."
The launch of SaxoSelect Trading Strategies complements the SaxoSelect offering following the launch earlier this year of SaxoSelect investment portfolios built with iShares by BlackRock.