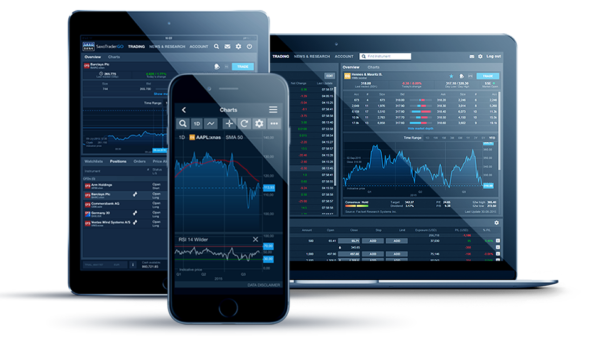 Saxo Bank, the multi-asset trading and investment specialist announces that more than 55% of total revenue from private clients is generated from trades on SaxoTraderGO. Today, exactly a year after the launch of SaxoTraderGO, the platform is Saxo Bank's most popular platform across all client segments.  Half a year ago, SaxoTraderGO was rolled out to the bank's white label partners and today more than 100 white label partners are live with GO, offering their end clients the platform in the 28 supported languages.
Bolstering the client experience, Saxo Bank celebrates the milestone by unveiling the new global equities market overview on SaxoTraderGO incorporating a number of new modules:  Indices, Gainers and Losers, News, Calendar Events and Overview Chart.
SaxoTraderGO, which has been written entirely in HTML5, pioneers the trading industry's definitive move towards seamless trading on multiple devices and away from legacy proprietary systems of the past.
The launch of SaxoTraderGO also marked Saxo's commitment to giving access to its trading infrastructure through the bank's OpenAPI. The move, which covers Saxo's multi-asset trading and back office infrastructure, allows clients and external developers to access over 20 years of trading infrastructure innovation.  The OpenAPI allows clients and White Labels to customise and enhance their trading experience. Last month Saxo announced that users of Wallstreet CN, one of the most popular financial content providers in Greater China, will be able to access and trade Forex on their platform by leveraging the power of the OpenAPI.
Christian Hammer, Head of Platforms, Saxo Bank said "Our initial design focus was to make the new trading and investment platform as intuitive and simple as possible while providing clients access more than 35,000 instruments across ETFs, stocks, bonds, CFDs, Forex, Futures and Options from one account."
And over the course of the rest of 2016, SaxoTraderGO will be further upgraded with a number of new features such as fully integrated technical analysis, new stock screener, option chain and the ability for White Label partners to upload own content.
Since its launch, SaxoTraderGO has been given a number of upgrades:
Global equity markets overview
Charts now supports a multi-screen setup
Login using touchID on supported devices
Chat directly with Saxo service staff through web, tablet and mobile
Equity research with deep fundamental data on more than 10,000 global stocks
Christian Hammer continues, "One of the most interesting new services we offer on SaxoTraderGO is an automated investment and trading service called SaxoSelect. It allows clients to invest in various strategies that are automatically re-balanced by Saxo Bank while clients maintain full visibility and can see the individual holdings in SaxoTraderGO. For instance we offer well diversified investment portfolios based on ETFs in cooperation with BlackRock. It is unique to offer clients the possibility to both pick their own trades as well as invest into managed portfolios all from SaxoTraderGO."