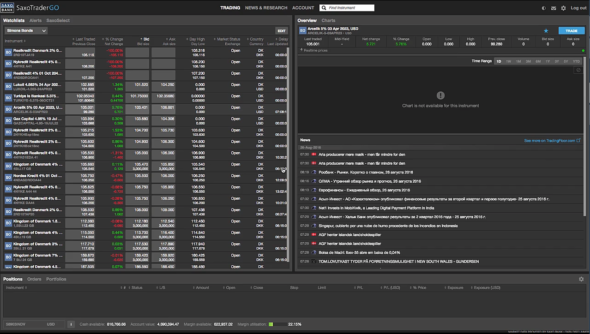 Saxo Bank, the online trading and investment specialist, announces today that it is transforming fixed income trading with the launch of the first truly digital trading solution for corporate and government bonds. As part of the launch, Saxo Bank will offer its clients access to trading opportunities in over 5,000 investment grade and high yield corporate and government bonds from all over the world and in 20 different currencies. The solution will be rolled out in October on SaxoTraderGO, the bank's multi-asset trading platform.
Saxo Bank will combine its technological prowess and its relationship with 40 of the largest liquidity providers in the bond markets to offer both retail and institutional clients more transparent, cheaper and more efficient access to fixed income trading opportunities. The move is set to revolutionise the way investors trade bonds – a process which currently involves a manual "request for quote" from a very small number of banks, and in some instances a single bank. The current process is inefficient as it does not explore the depth of the liquidity and range of prices available in the marketplace.
Saxo Bank's digital bond trading is connecting each client with the entire global bond market, in a direct, competitive, transparent, and efficient manner. Each bond order is directed to an optimized dealer auction which comprises up to 40 of largest bond liquidity providers. Thanks to technology, most trades are done within seconds, but, most importantly, clients will experience huge cost savings due to the competitive nature of the multi dealer environment. Saxo Bank's ability to offer its clients a fully digital trading solution which has high scalability will allow it to offer, on average, a price improvement of 30 basis points for corporate bonds and 5-10 basis points for government bonds, according to the bank's observations.
Large institutional investors have had access to electronic trading in liquid government and corporate bonds for a while, however, electronic bond trading has to date not been available to a large part of the investor base. Saxo Bank's aim is to change that and democratise access to efficient bond trading.
Commenting on the launch Kim Fournais CEO and co-founder of Saxo Bank, said:
"It is hard to imagine a market which is more ripe for disruption than the bond market. Watching a bond trader trade over the phone, at a time when the internet has touched almost every area of financial markets, not to mention our lives, is a clear call for disruption. Investors need to ask themselves if they want to continue to trade based on an indicative price from a single bank or if they want to get the best price available from more than 40 global bonds providers, including some of the largest global banks."
"Enabling our clients to trade bonds much more efficiently is an extension of our mission and history of democratizing investment and trading and leveling the playing field between institutions and retail investors when it comes to accessing financial markets"
Simon Fasdal, Head of Fixed Income Trading at Saxo Bank, commented:
"I am proud that the next step in Saxo Bank's history of democratizing trading and investment is to truly digitize bond trading. Many providers who have attempted to address the issue of electronic bond trading have failed because they took the wrong approach by trying to copy equity style trading into a fragmented market and ignoring issues with liquidity and indicative prices. Others have stuck to a manual work stream, despite a digital frontend, and not really taken the step to a full digital value chain. We have engineered a front end that will present clients with a trading experience which is similar to that which they are accustomed to in equity trading, offering speed of execution and transparency, and the technology to cope with the much more complex nature of fragmented bond markets in a simple manner."
"Client demand and regulatory pressure makes transparency absolutely key and with our new offering we will charge a commission, offering full transparency to clients, in contrast to the industry standard of a spread based system, which is not always a transparent way of pricing clients."
For more information, please visit: http://pl.saxobank.com/bonds-online/